Welcome to Your New Home is a package of oversized individual postcards mailed to people who have recently purchased a new home.
Reaching this niche can help your business grow for several reasons: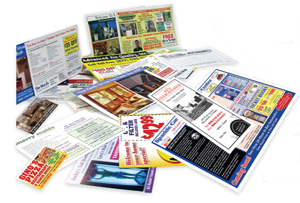 New Home Buyers Need You
A new home often requires the homeowner to purchase many types of products and services they now need. New home buyers are in the market for furniture, appliances, window treatments, flooring and any product that can enhance the enjoyment of their new home. For many new homeowners, repairs and improvements both inside and outside are needed right away.
New Home Buyers Don't Know You
Since new home buyers are often unfamiliar with the area, they don't know where to go to buy essential products and services. They are in need of many different types of personal and home services and don't know who to call. They need to know where to eat out, who delivers food, where to get their hair done, and chances are they do not know who to call for home repairs that are needed now or in the future.
New Home Buyers Are Building Their Buying Habits
New home buyers develop their buying habits quickly. Your business can become one of their new habits by including your message in our WELCOME TO YOUR NEW HOME package. New home buyers appreciate receiving this information and want to know what you have to offer.
The Power of U.S. Mail
With WELCOME TO YOUR NEW HOME you can tap the power of direct mail to reach these "new home buyers" who need your products or the services you offer. Reaching this appealing market segment is easy.
Get started today by contacting your Welcome To Your New Home Representative at 860-620-2771 or

[email protected]